One can say that anxiety is a normal stress reaction and can be beneficial to children at times. Anxious thoughts cause the brain to send out a warning signal for approaching danger. When a kid begins to cross the street without looking and an oncoming car is in the child's path, for example, the anxious response alerts the child to step back to the curb. Thus, it is crucial to ease an anxious child.
Anxiety can become extreme in some kids and interfere with normal life. Anxiety can make it difficult for children to communicate with peers and form friendships, to split from parents to attend school or other activities, and to learn. It can also have a bad impact on their sleep, food habits, and physical health.
Strategies to ease an anxious child:
There can be different reasons that can lead to anxiety or stress in kids. For example; excessive use of mobile is one of the reasons. No matter what the reason is, it is important for parents to ease their anxious child. Here are some strategies that you can follow to ease anxiety in kids.
#1 Deep Breathing
When children are frightened, they are told to take a deep breath, but learning to use deep breathing successfully takes practice. Daily deep breathing, particularly when children are quiet, teaches them to manage their breathing on their own.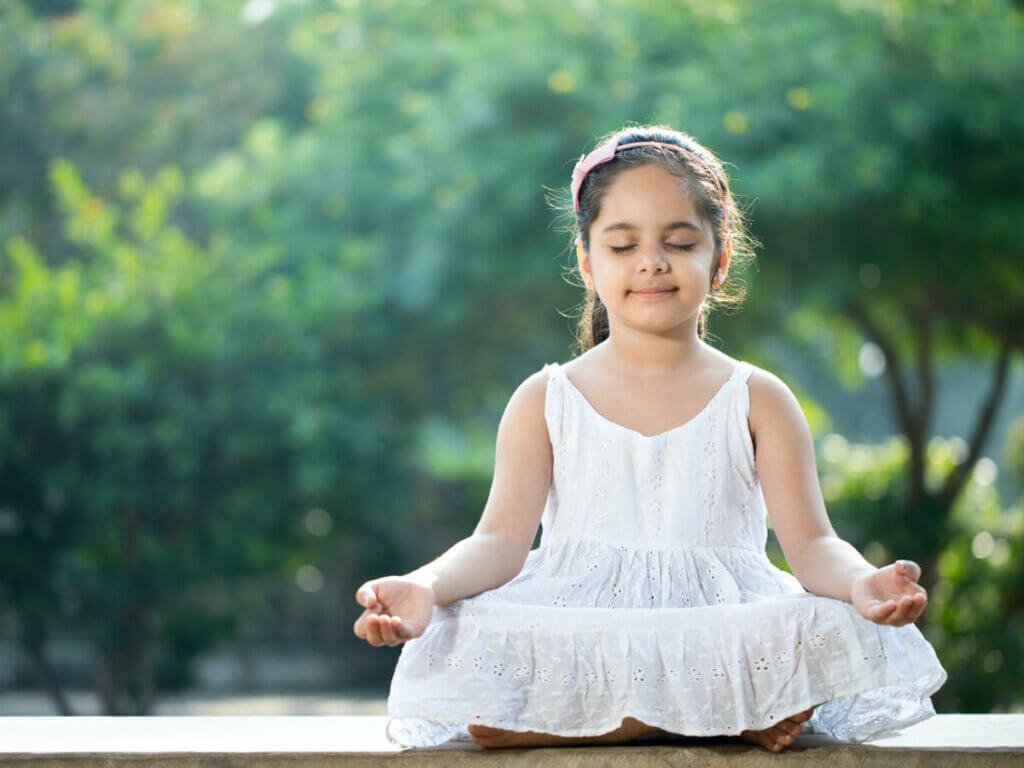 Deep breathing will reduce their heart rate and manage their physical responses to uneasy feelings when they are anxious or stressed. It is one of the strategies that could be quite helpful.
#2 Get Moving
Daily exercise can help lessen the physical response of the body to anxiety. According to one study, kids who practice yoga not only enjoy the elevating advantages of fitness immediately following the workout, but the effects persist long after the workout is over.
Kids can also benefit from participating in team sports, taking exercise courses, or simply going for a walk in the park. A nature walks, whether a trip along a trail or a stroll around your neighborhood, helps children bond with the world, calm nervous thoughts, and develop mindfulness.
#3 Make a note of it; tear it up
Children require time to express their emotions, but they must also learn how to express their nervous thoughts on their own. They require skills that they may utilize in school, camp, or even a sleepover.
Writing down anxious emotions is a terrific way to express yourself on paper. Always encourage your child to write down his or her worrisome ideas, then tear them up and discard them. The act of writing it down and tearing it up allows children to symbolically throw aside their worries for the time being.
#4 Hug your little one
We often underestimate the power of the human touch. Physical touch increases the release of oxytocin, a feel-good hormone, and decreases cortisol, a stress hormone. A long hug might make a worried child feel better in the present and restore calm.
During that hug, it also helps to empathize with your child. It's entirely natural to feel stressed and anxious, and anxious kids need to hear this frequently. Whisper sympathetic remarks, hug your child tightly, and wait for the physical symptoms to go away. Once your child is relaxed, you may also discuss how giving yourself a hug or clasping your hands together can truly help you control the physical feelings of anxiousness.
Takeaway:
Becoming a parent means- you need to work on different things. Anxiety and stress are common nowadays- however, parents should know how to ease children with anxiety. Following the tips mentioned in the article would be quite helpful if your child is anxious. Try them out to ease your child's anxiety!