Along with educational activities, extracurricular activities are equally important for your child's development. For example, there are countless benefits of art and crafts. Engaging your little ones in these kinds of stuff could be quite helpful in developing various essential skills. To learn more about the advantages of art and crafts activities, continue reading the blog.
Know the advantages of art and craft:
#1 Kids express themselves:
Arts and crafts activities, like all creative pursuits, are a fantastic creative outlet. Children can express themselves freely, and sometimes without even realizing it, through art! Children will unconsciously express their inner thoughts and feelings through their artwork.
Children can use art to reflect on and manage their emotions. Transforming an idea into a tangible work of art is a brilliant way to manage our internal thoughts and feelings, shaping them into something tangible. Furthermore, art and creative pursuits have been shown to improve mental health and well-being. All in all, art and craft let kids express themselves.
#2 Your kids become more confident:
Art can boost confidence and self-esteem in a variety of ways. For one thing, children will gain confidence in expressing themselves through art. Communicating their thoughts and feelings in their artwork will help them feel more confident in communicating their emotions. Furthermore, art involves peer evaluation and feedback. Receiving positive or constructive feedback can only help children boost their self-esteem and recognize their own strengths and accomplishments.
Art is a truly unique concept that varies greatly from person to person. This serves as a confirmation of each person's uniqueness and existence. Furthermore, as with most things, the more children engage with art, the more confident they become. Improving their techniques, comprehending the underlying principles of great art, and recognizing how art makes them feel all contribute to their self-esteem.
#3 Motor skills:
Fine motor skills are important physical skills that can be improved through art and craft activities. Children regularly use the muscles in their fingers, wrists, and hands while doing arts and crafts.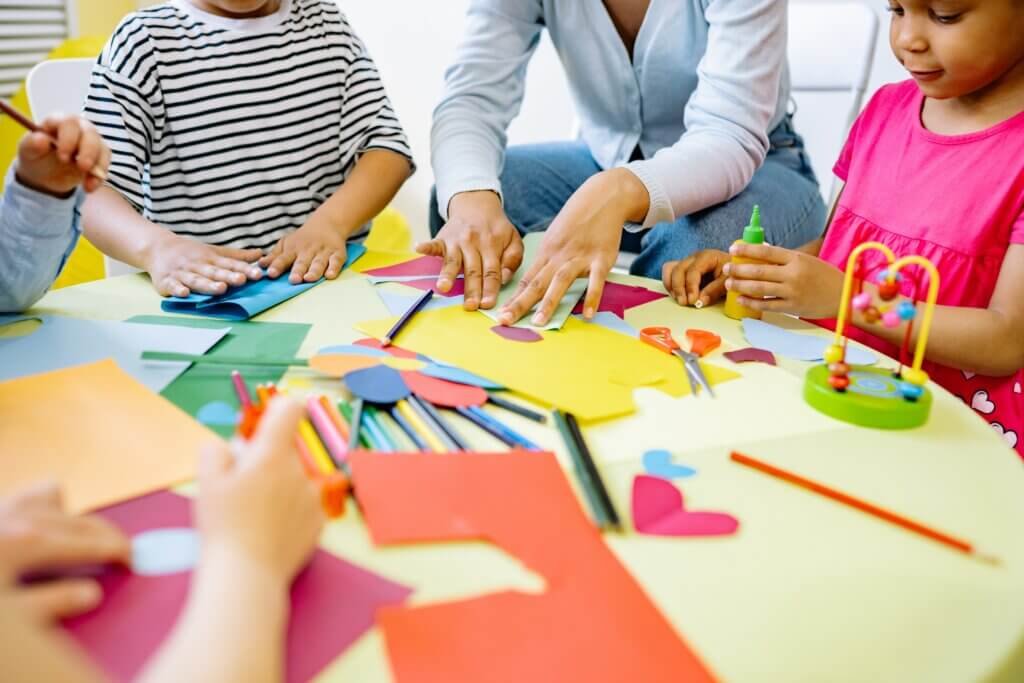 Regular use of these muscles improves their strength and finesse, making other tasks like writing much easier!
#4 Kids learn patience:
We are all aware that perfection takes time. It takes patience and dedication to complete a piece of art or successfully execute an artistic technique, regardless of the length of time it takes. When their artwork is finished, the children will feel a great sense of accomplishment and will learn that hard work and dedication are greatly rewarded. It can be tempting to rush things in order to finish them faster or to give up entirely if they take longer than expected. However, children's patience will grow over time, and they will realize that good thing take time!
#5 Concentration:
Similarly, concentration is a skill that is developed gradually rather than quickly. For some children, staying focused on the task and not allowing their minds to wander can be difficult. However, with an end goal in mind and the desire to succeed, aspiring young artists will concentrate on their artistic vision. Focus and concentration practice will benefit them in all aspects of life and a wide range of subjects.
#6 Kids learn how to plan:
Allowing students to practice their lesson planning skills is an important part of a teacher's lesson planning. Before beginning arts and crafts projects, children should have a clear goal in mind. They will also need to consider what materials and equipment they will require. For an artistic vision to be realized successfully, children should plan and consider how they will get there. Planning and foresight are important life skills that go hand in hand with other key skills like organization.
#7 Organization:
Organizational skills, like planning skills, can be developed through arts and crafts. Making sure they have the right equipment, a good workspace, and the right timing can all contribute significantly to the success of an art project. Being organized is a fantastic trait to have and can make life a little easier.
Takeaway:
The benefits of arts and crafts activities listed above clearly demonstrate how important art is for development and what a positive impact art can have! When kids indulge in extracurricular activities, they learn so many skills that will be beneficial for their future too. Teachers at Little Steps Montessori make sure that your little ones participate in all types of activities and always offer a comfortable learning environment.