Nobody can deny the fact that early childhood education plays a crucial role in children's lives. Parents must provide the best education to kids to ensure their future success. Sending your child to school at an early age is a smart move that helps in developing different and essential skills. When it comes to choosing the education program, parents might get countless options. But it is vital to pick the education program that prepares children for later life. A Montessori education program is the best that parents can choose for their kids. Here are seven significant benefits of choosing a Montessori education program for your kid; please have a look at them:
1. Montessori education comes with key development stages:
Montessori is a scientific educational system that focuses on the main developmental stages that all children go through as they grow up. Children are in a critical period for learning new abilities and activities that will help them accomplish their next developmental milestone at each of these stages.
Doctor Maria Montessori thought that allowing children to explore and develop these skills would make incredible progress. And this is why the Montessori Method of education is based on the child's individual developmental needs. The Montessori curriculum, classroom structure, and learning materials have been tested, modified, assessed, and demonstrated to support and nourish a child's full developmental potential across age groups, countries, and cultures.
2. Montessori education enhances social development and collaboration:
Children are grouped by different age groups in a Montessori classroom and are encouraged to collaborate and aid one another. This learning environment's structure enables children to share and collaborate to study different aspects of the Montessori curriculum.
Children learn to respect one another, acquire collaborative problem-solving abilities, and develop a sense of community as a result of the nature of the classroom environment.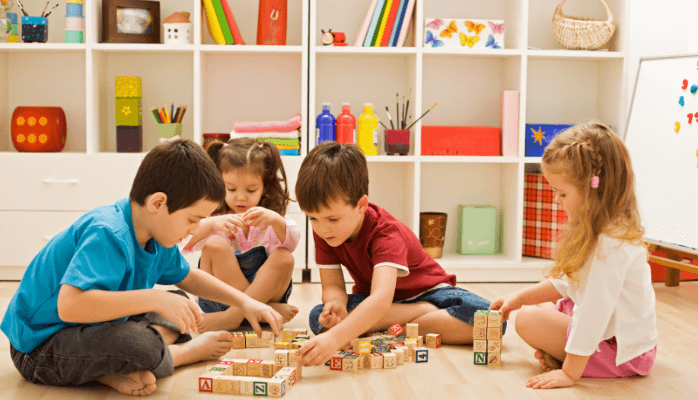 3. Montessori education is child-centered & has the best teachers:
The Montessori classroom is a structured learning environment in which children can select from different developmentally appropriate activities. The role of the teacher in a Montessori classroom is to lead and encourage the learning process.
They follow the children's lead in the classroom, enforcing the ground rules and encouraging kids to work independently and at their own pace. Allowing children to direct their learning makes them study in a fun and engaging way. Also, it develops skills like self-discipline, independence, and positive self-esteem.
4. Montessori education helps kids with self-assessment:
Self-correction and self-assessment are essential components of Montessori education. As children advance through the educational program, they learn to evaluate their work critically, work on their errors, and learn from their failures.
Children who go for the Montessori education program grow to become confident, self-motivated learners with an intrinsic love of learning. Montessori education also gives children the opportunity to question, dig thoroughly, and find connections. The education program cultivates engaged learners who have a positive and confident attitude toward lifelong learning.
5. Montessori education provides learning for life:
A study published in the journal Science in 2006 by a group of psychologists in the United States looked at the talents of children educated in a Montessori school versus a regular school. Children who attended Montessori schools were shown to be more creative, socially balanced, and capable of adapting to changing and complex challenges, all of which have been linked to future school and life success.
The study also found that 5-year-old Montessori kids were better equipped for reading and math and that 12-year-olds authored "much more creative essays" with "advanced sentence patterns."
6. Montessori education focused on hands-on learning:
The Montessori Method's emphasis on hands-on learning, particularly during the early learning years, is one of its most valuable features. Students work on activities that teach language, math, culture, and practical life lessons, with an emphasis on tangible rather than abstract learning.
Also, teachers encourage them to focus on projects and do not let them interrupt one another. In a nutshell, Montessori education allows kids to focus on assignments until they have mastered them completely.
7. Montessori education is highly individualized:
In a Montessori classroom, students are free to explore activities and concepts at their speed. This naturally encourages children to try difficult areas, speeding up their learning process. Rather than forcing everyone in a classroom to learn at the same pace, students can learn at their own pace.
To wrap it up:
All in all, Montessori education fosters children's natural drive to learn and attain their greatest potential by laying the groundwork for future development. To provide the best learning experience to your kid, you can opt for a Montessori education program. The education program brings a positive early learning experience and lets your kid enjoy the entire learning process. Why wait? Give a great learning experience to your kid and opt for the Montessori education program!